Contact ISSS Staff
We look forward to helping you achieve your goals at Marymount University! We are here to provide support and help you be successful, and we offer a variety of ways for you to get in touch with us and ask questions or voice your concerns. Please allow 3 business days to receive a response.
ISSS Team and Contact Information
Office Email: isss@marymount.edu Office Phone Number: (703) 526-6922 Location: Temporarily in Rowley 1004G (Mon & Wed from 10am-3pm)
| | |
| --- | --- |
| Ashley Bus Morgan | Veronica Bonilla |
| Director for International Student & Scholar Services | International Student Advisor |
If you would like to learn more about who makes up our wonderful ISSS Team, please click here!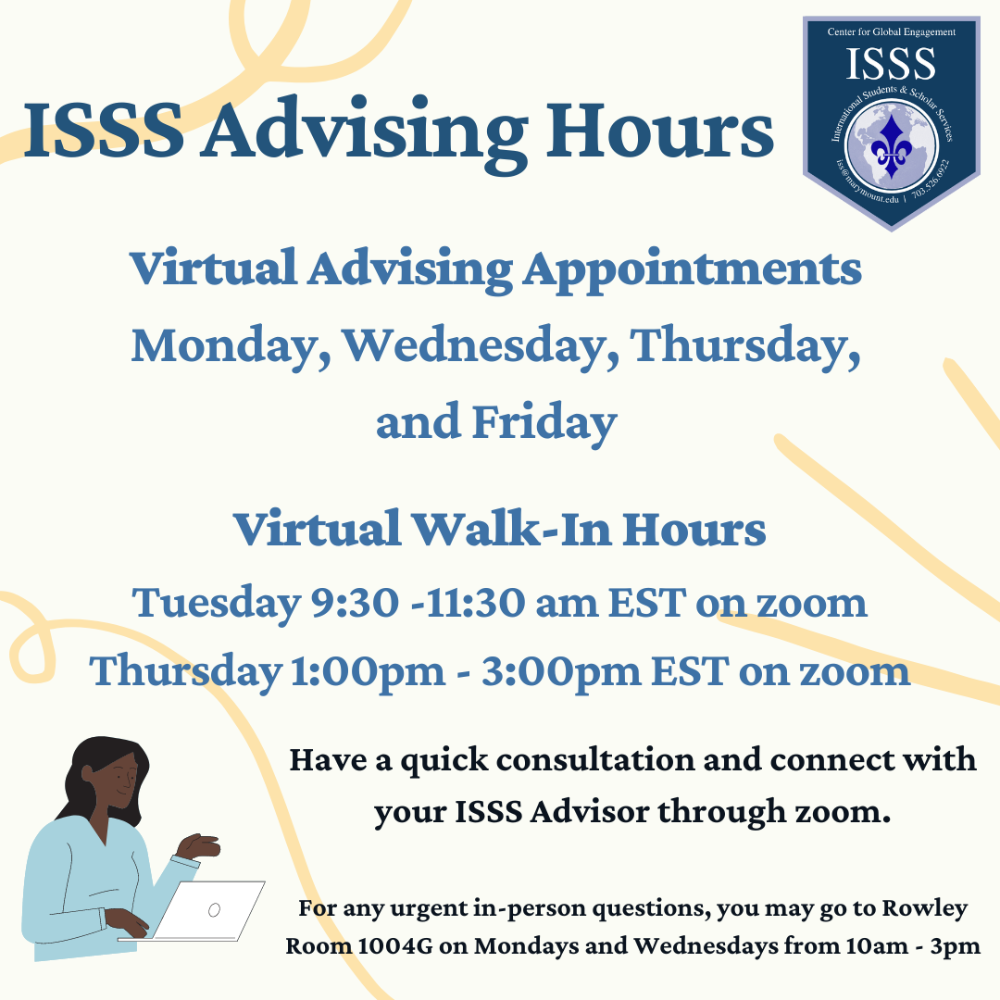 How to Meet with the ISSS Team
Appointments are pre-scheduled sessions of 20-30 minutes. To schedule an appointment with someone from our ISSS team, please click here. You will be re-directed to our appointment booking site where you can select a topic and date & time. We are currently only offering virtual appointments for the summer.

Virtual Walk-in hours are typically 10-15 minute sessions with someone from our ISSS Team for any quick questions. You do not need to pre-select a time to attend walk-in hours. Click here for more instructions on how to log into virtual walk-in hours.
How to Submit a Request
Most of the immigration-related processes require that you submit an official request through the ISSS portal. To log into your portal, click on the "Log In" button at the upper right corner of this page and sign in using your MU credentials. To learn more detailed information on what is required for your specific request, please search for your request on our website using the left hand menu bar.



Processing Time


We ask that you please allow our office at least 7-10 business days to process any requests made in your ISSS portal. If your request is missing documents an advisor will contact you. Keep in mind that processing times will take longer if you did not submit all the required documentation or if we need to request for clarification.